Harry Oswald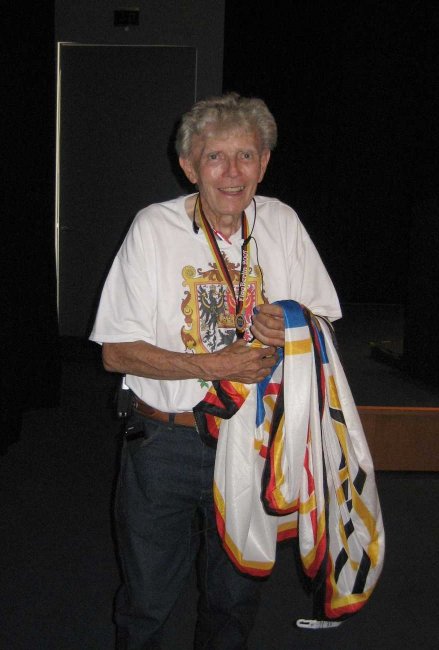 Dear NAVA Members and Friends:
We were saddened to learn that our friend Harry Oswald passed away early Saturday, March 1, 2008. He spent several weeks in the hospital, endured surgeries and other medical interventions but was unable to recover from cancer. It was Harry's wishes that he be cremated. A small family-only service will be held. His family is preparing a short biography that will soon be posted on a Web site with photos so that Harry's friends around the world can remember and celebrate his life.
Harry was a NAVA member since 1988, he served ably on the Membership Committee for several years, and he organized NAVA 28 in Portland in 1994. He was the founder of the Portland Flag Association and was the moving force behind the creation of the Japanese Vexillological Association. He consistently attended NAVA meetings and international congresses of vexillology, the latest being in Berlin in August, where he was resplendent, as always, in his white tuxedo and Texas-flag tie and cummerbund.



Harry shared an interest in shooting sports with his grandson, Scott, and was an active adult member of the Brazos 4H Shooting Sports Club. In lieu of flowers, memorial contributions in Harry's memory can be sent to: Brazos Co. 4-H sportsman Club, P.O. Box 5953, Bryan, TX 77805 noting that it is for their building fund.
Diane Oswald and Ted Kaye



Harry Oswald hat in Berlin am XXII.ICV FlagBerlin 2007 ebenso wie an vielen früheren Kongressen teilgenommen. Wir trauern um einen guten Freund und werden sein Andenken bewahren.

Gerd Vehres


Jörg Majewski
© DGF
Stand: 02.03.2008
JM